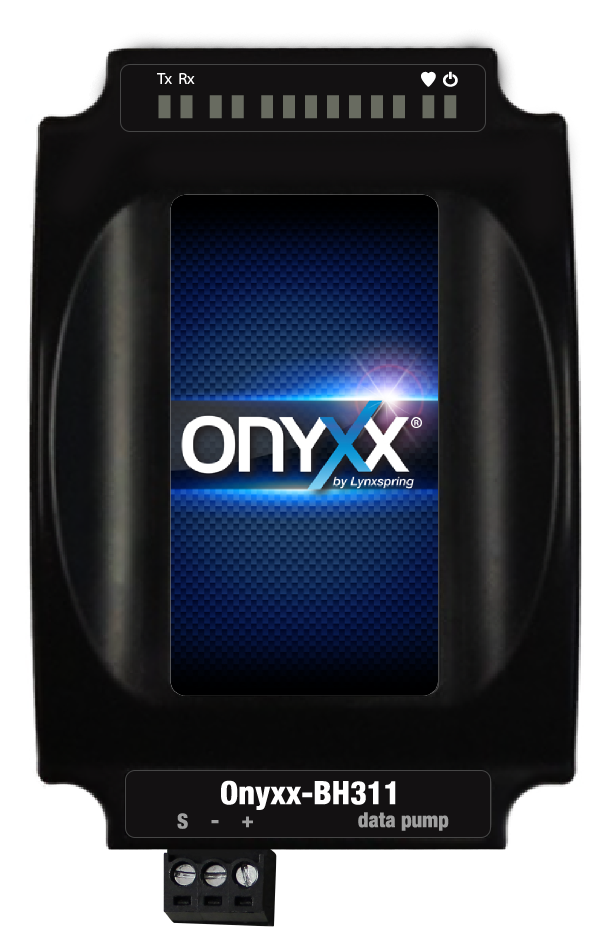 Overview
Today there is an increasing number and variety of equipment, sensors, devices and building automation systems that are available to connect within the environment and the amount of data that is available from them. With this data the challenge lies in how to manage and get useful information out of the data especially as these data sets often come with various formats, naming conventions, and syntaxes.
Streamlining the interchange of data from BACnet devices and building and systems, the Onyxx® BACnet to Haystack Data Pump provides network communication and data exchange.
The Helixx™ Framework is embedded in the Onyxx® BH311 and handles the BACnet to Haystack protocol translation between BACnet points to manageable Haystack points. Acting as a BACnet client device, the Onyxx® BH311 manages all BACnet/IP, BACnet/Ethernet or BACnet MS/TP devices connected to it.
With the Helixx Framework onboard, third-party software is not required to access and configure the Onyxx® BH311. An operator simply connects to the Onyxx® BH311 utilizing a standard Internet browser. The user is presented with all of the configuration screens, documentation, device settings, help and software tools needed to complete a successful project.
The Onyxx® BH311 Data Pump is part of Lynxspring's E2E, an edge-to enterprise ecosystem For the Internet of Things™ which enables collaboration between smart systems, smart devices, and intelligent equipment and cloud services.
Communication Capabilities
Network Communication
The Onyxx® BH311 is connected to a network utilizing the 10/100 Mbps Ethernet port with auto-negotiation, allowing for the use of either a Cat-5 straight-through cable or a crossover cable. An optional embedded cellular modem can be added for communications that does not have or require a remote TCP/IP network.
BACnet MS/TP
The optically-isolated, transient protected RS-485 serial port located on the Onyxx® BH311 Data Pump allows for easy installation of 3-wire (+, -, and sheild) RS-485 networks utilizing the 3-screw removable terminal block.
BACnet/IP and Haystack Communication
BACnet/IP, BACnet/Ethernet and Haystack communication occur simultaneously through the Ethernet port. Once the Onyxx® BH311 is connected to a network, Haystack data is pushed via port 80 and BACnet/IP communication occurs through UDP port 0xBAC0 (decimal 47808). Both the Haystack and BACnet/IP ports can be modified to support the project's needs.